Slathered in sunscreen and highly toxic bug repellent.  Leggings worn underneath a loose-fitting sundress on an oppressively hot day.  Feet, swollen with an eery gelatin feeling on top, from two lengthy international flights.  My thighs, clinging to my husband. My arms wrapped across his belly—-in sweaty and deep admiration, as he boldly navigated [traffic] obstacles with grace. Exhilaration, conquering my senses, while armed with prayers and intentions of LOVE and safe travel—-as we road-tripped it on a motorbike—-our kind of a pilgrimage—-to one of the most beautiful beaches in the world.
This is a snippet from our second day in Goa—-now one of the best days of my life—when my husband, Daniel rented a scooter and drove us all over. Did we know that we were going to do this before we arrived in India? Nope. Did we know that there would be cows, chickens, pigs, pedestrians, cyclists, auto rickshaws and tour busses on the road while we drove around? Not really.
Saying YES was a no-brainer choice for us, given our adventurous spirits and Daniel's love of riding motorcycles.
Let's jump ahead a few days later— where we are now entrenched in the serpentine nature of bazaars and the famous Spice Market in Old Delhi. In constant awe of the chaos with our first "Indian Helicopter," apparently a manually navigated rickshaw, where we were led to air conditioned shop where we could safely test out magic carpets, admire crystals, and drink tea with Arabs.  (I seriously felt like a character in "The Alchemist!")
Two days before that, we experienced luxury and abundance in the form of mysticism, body-pampering, great food, and shopping for Indian fashions, with a dear friend of ours who resides in the greater New Delhi area.
NOT ONE OF THESE EVENTS WAS PLANNED and yet everything went "according to plan."
What I found is that when I plan, nothing ever really turns out the way that my Junior, my word for ego, wants it to.  Of course, this does NOT mean that I am unaccountable to appointments, that I go flaying (instead of flowing) with life, and that I just cross my fingers and hope for the best.
It does mean that I LET LOVE LEAD THE WAY!
Love is my intention for everything that I do.  If I want to create love, I put LOVE into my entire process of creating it.  And since I have free will and desire, I can choose a destination for LOVE to flow in my life.  For instance, as long as I can remember, I wanted a partner who I could travel with, enjoy great food with, and change the world with. I ended up creating that with Daniel, my husband.
It has not always been easy.  Our relationship has never lacked for love nor passion, but there have been times in which we have struggled together.
There were miscommunications, judgements, and hurt feelings—-and really, SO MANY clash of the Juniors between us!
In all of our time together, neither of us has once chosen to settle. In fact, six years ago, after attending some incredible transformational trainings called World Works in the Orange County area, I chose to no longer participate in the dynamic that Daniel and I had co-created in our relationship.
Just to be clear, I was NOT rejecting Daniel as a person. I simply knew that the way in which our relationship was currently going was no longer viable nor aligned with my soul's path and my heart's desire.
And that's the thing.
When we can powerfully OWN what it is that we desire—-we may quickly find that some of our relationships no longer fit in with who we are committed to becoming. The choice to release a relationship or to remove yourself from a dynamic in a relationship is both extremely painful and incredibly liberating.
I did not like who I was being in our relationship. I did not like how much I held myself back.  What I saw as Daniel's rigidity was really just a mirror image showing me how much I had chosen the path of fear and insecurity.
I no longer wanted to feel this way. I was not satisfied with the results in my life. I no longer wanted to be status quo and wait to die. I wanted LOVE. I wanted to live free from the control of outside expectations and fear.
I chose to REVOLT FOR LOVE! 
Six years ago, I told Daniel that what we had was DEAD. Now, we are traveling in India together where we BOTH spoke at the Women's Economic Forum in New Delhi. 
Daniel did not plan to speak, but he made a new choice. In the midst of being in such a loving, enlightening, and inspiring environment, Daniel chose to follow his heart by taking a huge new step toward a dream of his. By choosing to speak, network, and be the empowering person that he is, Daniel has effectively launched his SECOND business—-his coaching business!!!
I am SOOOOO thrilled for Daniel and I LOVE (x3) what LOVE has led us both to—-together!!!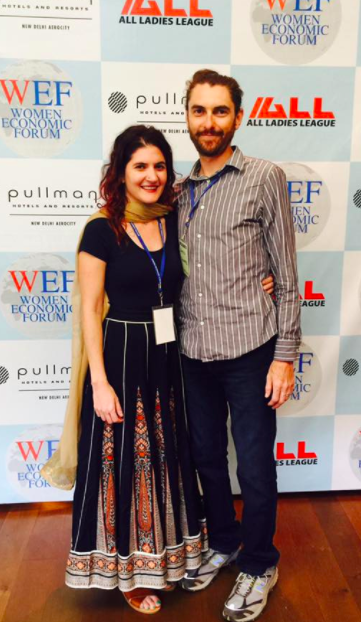 If planning is not your thing either, do not worry.  Just be honest with yourself…
…Are you not planning because you are afraid of not doing things the "right" way? 
…Do you make yourself plan everything out because you think that is what you are supposed to do?
…Are you waiting for permission to stand in your truth and follow your dreams?
…Are can you let go of?
…What are you ready to say yes to?
…What new up level would you love to be a part of your relationships and experiences?
I would LOVE to hear your answers to at least one of these questions!!!
Share your heart with me by leaving a comment or emailing me at lauren@loverenegades.com
I LOVE YOU!
Namaste,
Lauren