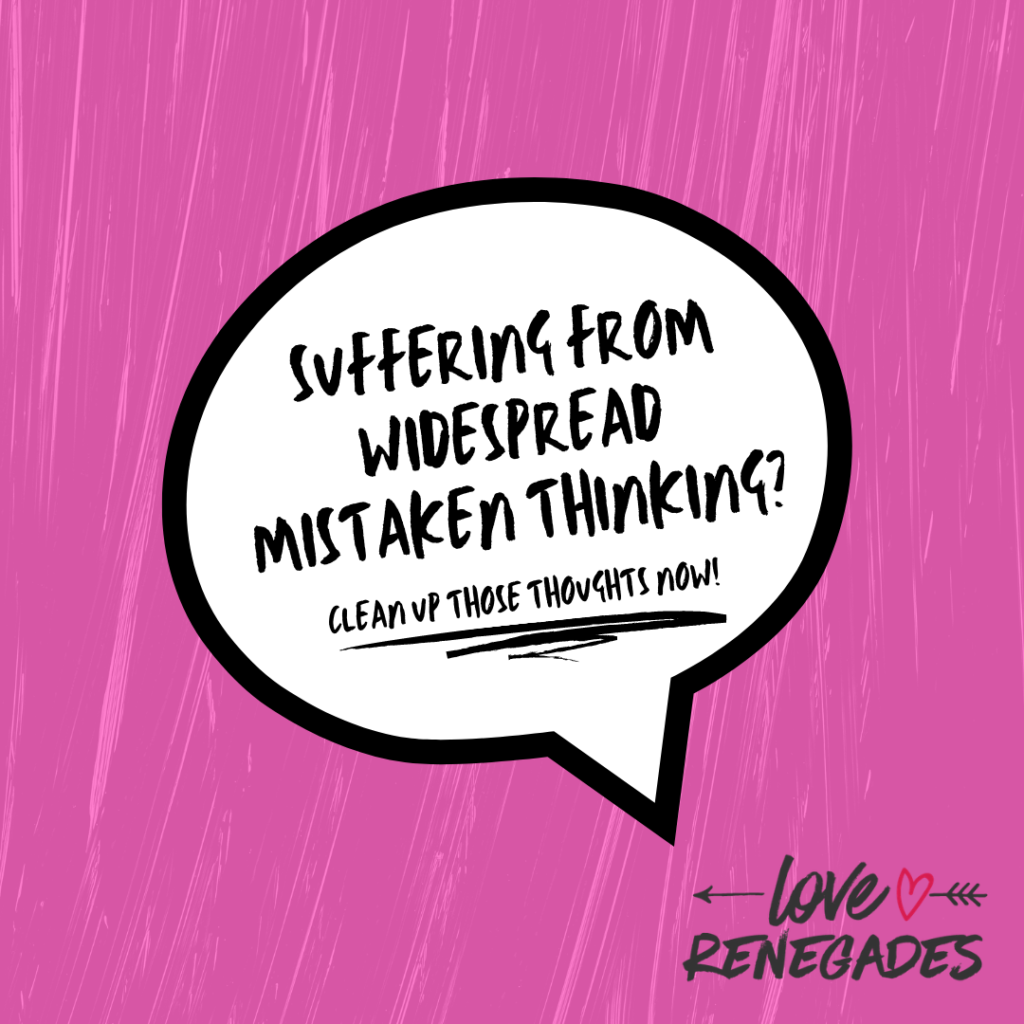 Tired of feeling frustrated, overwhelmed, and stuck in your current relationships? You might be experiencing mistaken thinking, a phenomenon which makes it very hard for you to see the opportunities in front of you, causing you to take incongruent action, which ultimately leads to being stuck and feeling the frustration, anger, resentment, etc. that comes with it.
Signs of mistaken thinking include the following:
Following advice that is NOT congruent to you and expecting it to work.  There is A LOT of mistaken thinking perpetuated by so-called relationship experts, health authorities, and business coaches.
Seeing only one or two options for how to move forward. This is the Illusion of Absorption at its finest. If you only see one or two options, you are participating in a form of mistaken thinking.  If you find yourself arguing that you have no choice, then ask yourself, "Why do I need to be right about being so powerless and limited? How does this help me?"
Viewing yourself as wrong or defective.  This is a form of self-abuse designed to keep you stuck and perceiving yourself as powerless.
Believing that life has to be hard and that relationships take a lot of work.  Many people believe that we have to suffer in order to grow and that anything worth having requires a lot of work. While there is a little bit of truth to this, this is another form of mistaken thinking.  Suffering and growth do not have to co-exist.
Doing what you did years ago, when your relationships and life are now calling you to new action.  Usually what worked for us five or six years ago will not work for us anymore.  If this is what you are experiencing then it is time to break free of mistaken thinking and open yourself up to new possibilities.
Any of this sound familiar?  Would you like to resolve your mistaken thinking, reconnect with the Truth of who you are, and be on your way to authentically enjoying your life and relationships? Hire me to "clean up your thinking" with a Soul Guidance Session. The Soul Guidance Session includes the following:
Key insight into how you can move forward in a way that resonates to your unique energetic signature
Shedding light on the Truth of the matter, without all of the illusions that are causing "mistaken thinking"
Practical guidance for relaxing into your energy as you take new aligned action
This session is 60 minutes, delivered on Zoom. The session is recorded for your convenience. It also includes a 30 minute follow-up session.  Until Wednesday June 9, 2021, at 7 PM CST the Guidance Session is only $300, which is half my normal rate!!
Purchase here===> https://www.paypal.com/cgi-bin/webscr?cmd=_s-xclick&hosted_button_id=SD2FWX2R2E22W
After I receive notification of payment, either I or someone from the Love Renegades Team will be in touch to schedule your session and gather the information that I need to create your session. Please know that all sales are final and refunds are not offered.
I highly encourage you to take me up on this offer. I am looking forward to working with you!