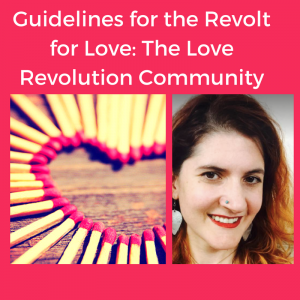 WELCOME TO THE REVOLT FOR LOVE: THE LOVE REVOLUTION!
Ready to create your own personal Love Revolution and your own Universal Love Story? Welcome home!
This is a heart-centered community for insightful and intelligent people who feel drawn to choosing LOVE over fear and contributing to making our world a more loving place. This is a really tall order!! We will use this group to ban together as we look within ourselves, make wise choices, and create LOVE through our relationships—-especially within ourselves and our intimate partnerships!
Get started with my free mind map to help you Break the Laws of Love! You can get your own copy in our free Community here: https://bit.ly/2HwiUtT
Then introduce yourself to the group in a new post. Lurking may feel more comfortable, but letting others know that you exist is a practical way for you to make friends and LET LOVE LEAD THE WAY!
Let us know a little about who you are!! Tell us the following:
-Name and Occupation/Passion
-Where you live and what city you are from.
-What show you are currently watching or recommend? (If you aren't into TV, let us know about movies, books, music that you are into! )
-BONUS QUESTION– What drives you to choose love over fear? (That how we #revoltforlove!)
Make new friends, reconnect with old ones, and comment on each other's posts!!
Use this group to share what inspires you and opens your heart and PLEASE let us know why you are sharing it with us!  (In other words, don't just drop a link or a meme! Let us know what you think or feel about what you are sharing!! In other words, share yourself with us!)
We are Love Renegades.  As Love Renegades, we are not so much about rules, but we do our best to practice common sense. Here are my common sense guidelines:
-DO NOT be a jerk and attack anyone for having different views than you. Disagreements are OK. Passionate conversations are encouraged. Bullies will NOT BE TOLERATED and they will be OUSTED from the group!
-DO NOT spam the group with ads.
Make friends, support one another, ask questions, share your insights and what inspires you! Topics on love, manifesting your dream relationship, enhancing the relationship you are already in, and heart-healing are welcome here!
I'll be answering questions, sharing insights, facilitating discussions, and guiding you on how to create your own personal Love Revolution and Universal Love Story!
I am SO excited to help you REVOLT FOR LOVE! ❤️
Love,
Lauren