When was the last time you broke up with someone? What about the last time someone broke up with you?
Whether it's divorce, an intimate partnership, or even a friendship—-I want you to know that it OK to be heartbroken.  It is OK to move on too. And yes, it is definitely possible to do both at once at the same time too!
As a Love Psychic and Healer, I see people struggle with resentment, grudges, and even guilt.
The pain of a breakup and the desire for fairness and justice is completely understandable.  It is healthy to acknowledge your heart's pain and any emotions you are experiencing through your process.
It is freeing—-LIBERATING to release what separates you from love. Letting go is one of the most loving things that you can do for YOU.
During the Women's Economic Forum in New Delhi, I had the honor of speaking with a panel of women on the topic of "Driving the Future with Love, Caring, andForgiveness."
Please watch the video below for loving wisdom burst on this subject.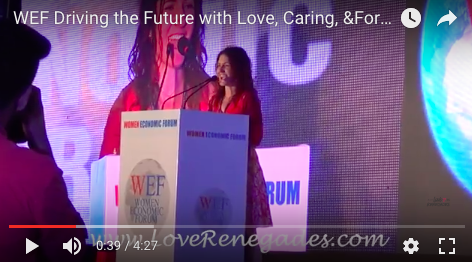 I will be in touch very soon with footage from my "Letting Love Lead the Way" mini workshop.