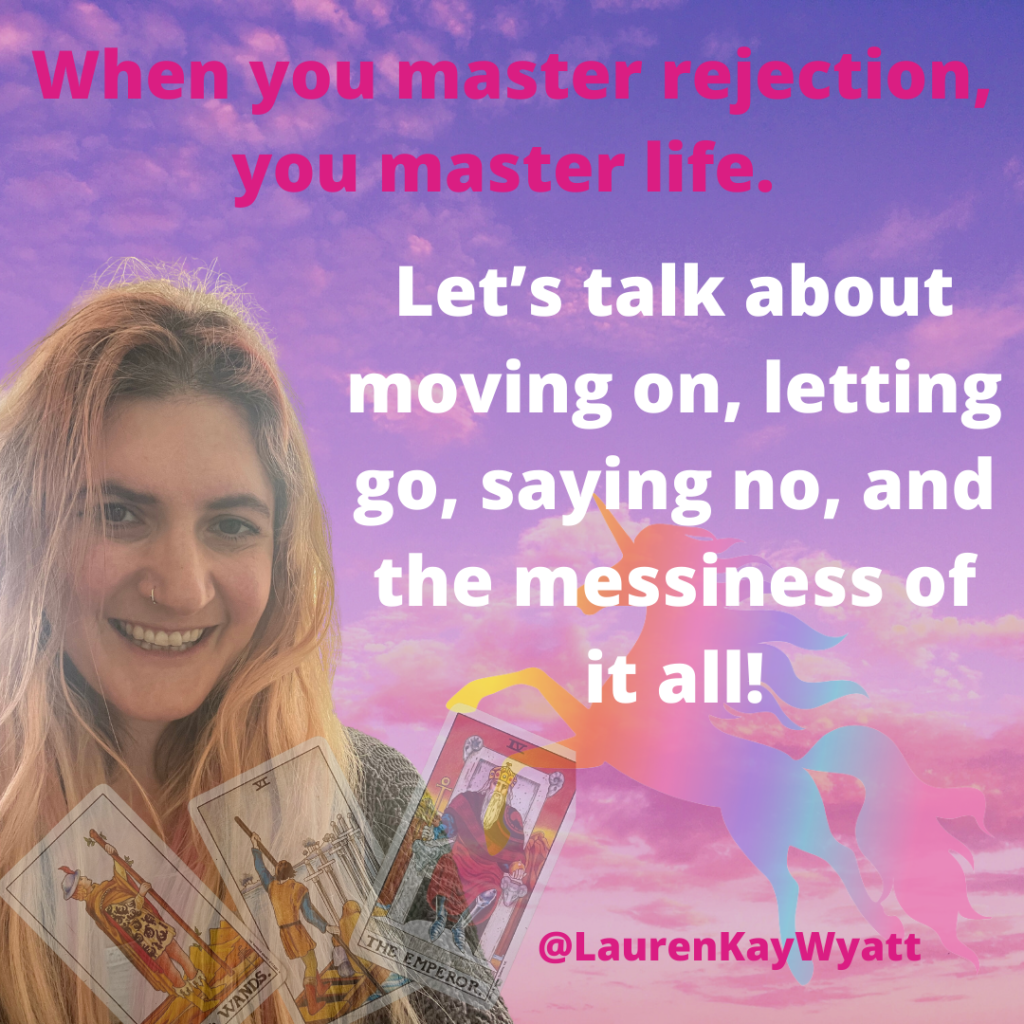 When you master rejection, you master life. Whether you like it or not, it supports you to accept that rejection is a part of life.
You are constantly choosing what to say yes to, what to say no to. When to wait, when to act, when to move forward.
If you do not "reject" an idea, a person, an offer, etc—you are stuck in indecision. Often, when we are indecisive, we are pushing away opportunities for expansion, success, and abundance.
The worst kind of rejection is when you REJECT YOURSELF—aka denying your own inner truth—by staying in the situation, relationship, or dynamic for way too long!!!
So when choosing to leave a situation or relationship, all you can do is make sure you leave with integrity.
Trust that no matter how much of an empath you are, know that you are NOT RESPONSIBLE for how the other person feels about your choice to leave.
Their feelings are theirs and you have no business micro-managing those feelings!
If there is a reaction from the other person about your choice, let them have their reaction, respond if you need to, and move on. Trust that your departure benefits the highest good.
On the flip side, if you feel hurt that someone says no to you or chooses to move their life in a different direction—LOVE YOURSELF through your pain—trusting that their choice is NOT ABOUT YOU.
For both the rejector and rejected, release the other with Love. See the situation as aligned to both your highest good and for your journey as a whole. <3 One of my gifts is helping my clients trust themselves and their decision-making process. Not only am I psychic and skilled at reading situations, relationships, and people, but I am certified and trained in modalities, such as Soul Realignment and Human Design, that support my clients in connecting with their intuition and innate decision-making process. When you know how you are wired to make decisions and actually follow this sacred guidance, you tap into trust and authentic self-confidence. This allows you to create a life and relationships that you love---as well as learn how to respond to the "curveballs" that the Universe throws at you. I would love to assist you with your journey! Check out my psychic boutique and get a reading! Also, I have specials going on in March so reach out by email if something grabs your attention.